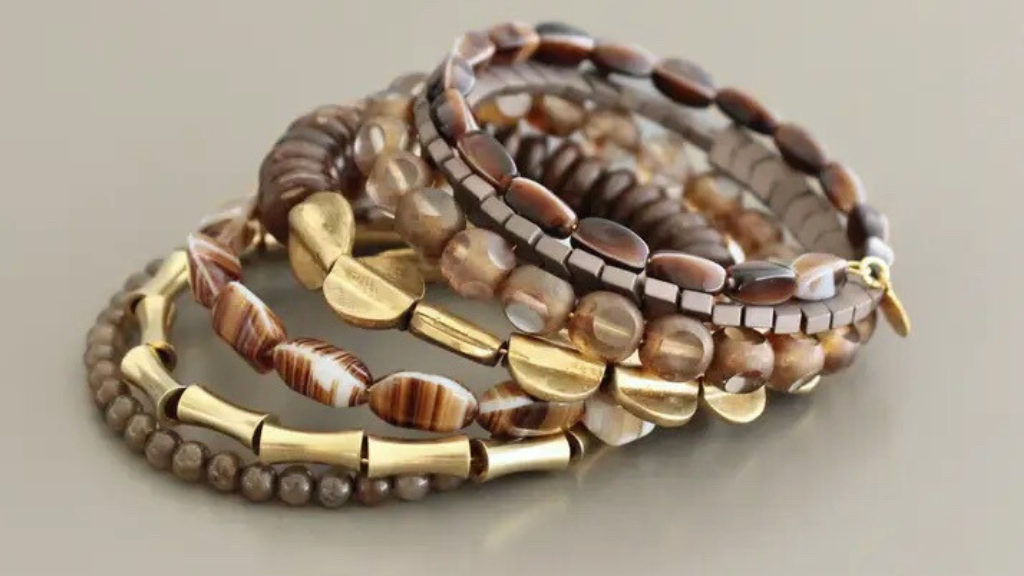 If you're someone who values versatility in your accessories, then casual multi-strand stretch wrap bracelets are made just for you! Unlike traditional bracelets with clasps or fastenings, these stretchy wonders effortlessly slide onto your wrist, conforming to your size and shape. The adjustable nature of these bracelets ensures a comfortable fit for everyone, eliminating a headache to get the perfect size.
Are you looking for the perfect accessory to complement your casual outfits and add a bit of natural elegance? Look no further, as TURQUOISE STONE WRAP BRACELET or WHITE STONE AND BRASS WRAP BRACELET adorned with beautiful natural stones might just be the answer you've been seeking.
They mimic multiple stretch bracelets without all the hassle, just gently wrap it around your wrist without overstretching the coil.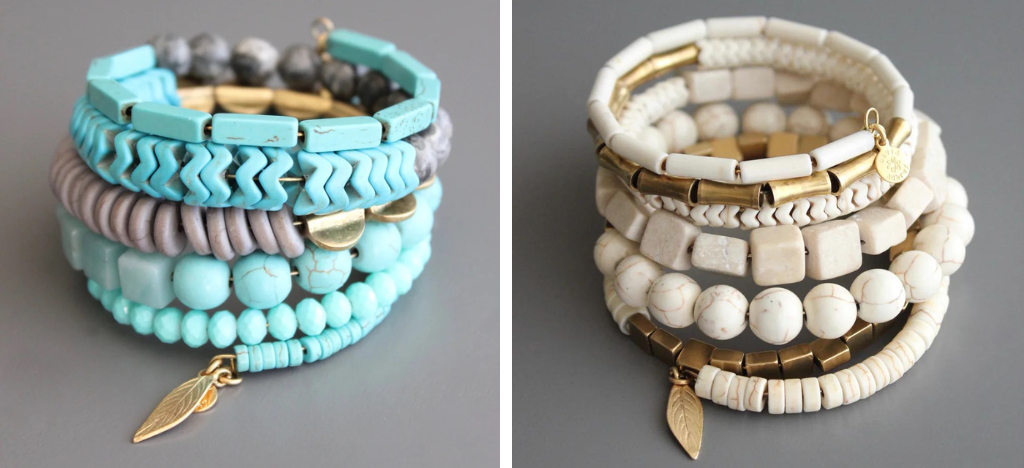 Beyond their practicality, these bracelets offer a chic and contemporary aesthetic. The multiple strands of beads or stones create a layered effect that adds depth and dimension to your wrists, making a bold statement that effortlessly elevates any outfit, whether casual or formal. You can mix and match these wrap bracelets to go with various styles, whether it's a bohemian look or classy evening attire. The creation of multi-strand stretch wrap bracelets is an art form in itself. Skilled artisans meticulously select and arrange the natural stones, ensuring a harmonious blend of colours and textures. The stones are interspersed with beads or metallic accents and making them even more versatile for pairing with other accessories.
When investing in these stone-studded beauties, quality matters. All pieces are made to order and handcrafted at the studio in New Jersey by skilled artisans who use premium materials and pay attention to every detail, creating bracelets that not only look stunning but also withstand the test of time. Choosing high-quality wrap bracelets means you'll have a strong and lasting accessory that you can treasure for many years.
Whether you are drawn to the calming energies of turquoise, the porcelain appearance of magnetise, or the grounding properties of coco wood beads and jade, there is undoubtedly a multi-strand stretch wrap bracelet that resonates with your personal taste and story.
Explore the full collection of the best multi-strand stretch wrap bracelets here.